What Are The Affordable Oppo Mobile Phones To Buy?
Who does not want to own a good smartphone these days? But most of the latest smartphones with latest technology and specs, are usually too heavy on your wallet. But have no fear when Oppo is here. Oppo has become one of the largest mobile phone brands in the world, but more importantly, you can buy a good Oppo smartphone for yourself in any price range. Oppo mobiles give you the best quality smartphones all under your budget. So, we will be reviewing some of the trendy Oppo mobiles, which are quite affordable for all you guys out there. Let us just dive right in.
First up on the list is Oppo Reno 4 5G. This slim and sleek phone gives you everything you want for your mobile phone needs. It gives you great specifications on low price. You can buy this phone for just £349.99.
Specs
This Oppo smartphone is powered by Qualcomm Snapdragon 765G and operates on ColorOS 7.2, based on Android 10. With 8GB RAM and 128GB ROM you get enough memory and space, to fulfil all your smartphone needs. Oppo Reno4 5G has a 6.5 inches display, which gives you the resolution of 2400×1080 pixels, providing you 90.7% screen to body ratio.
Camera
With this incredible Oppo smartphone you get 48MP Ultra-clear main camera, 8MP ultra-wide camera and a 2MP mono camera. This Oppo mobile takes your photography skills to the next level. Plus, with ultra-night mode you can make crisp videos even in the darkest night.
Smooth Internet Surfing All Day Long
The great specs and technology of this phone lets you enjoy lightning-fast 5G, in a smooth and carefree manner. Plus, its 4020mAh battery lets you enjoy your streams and games all day long.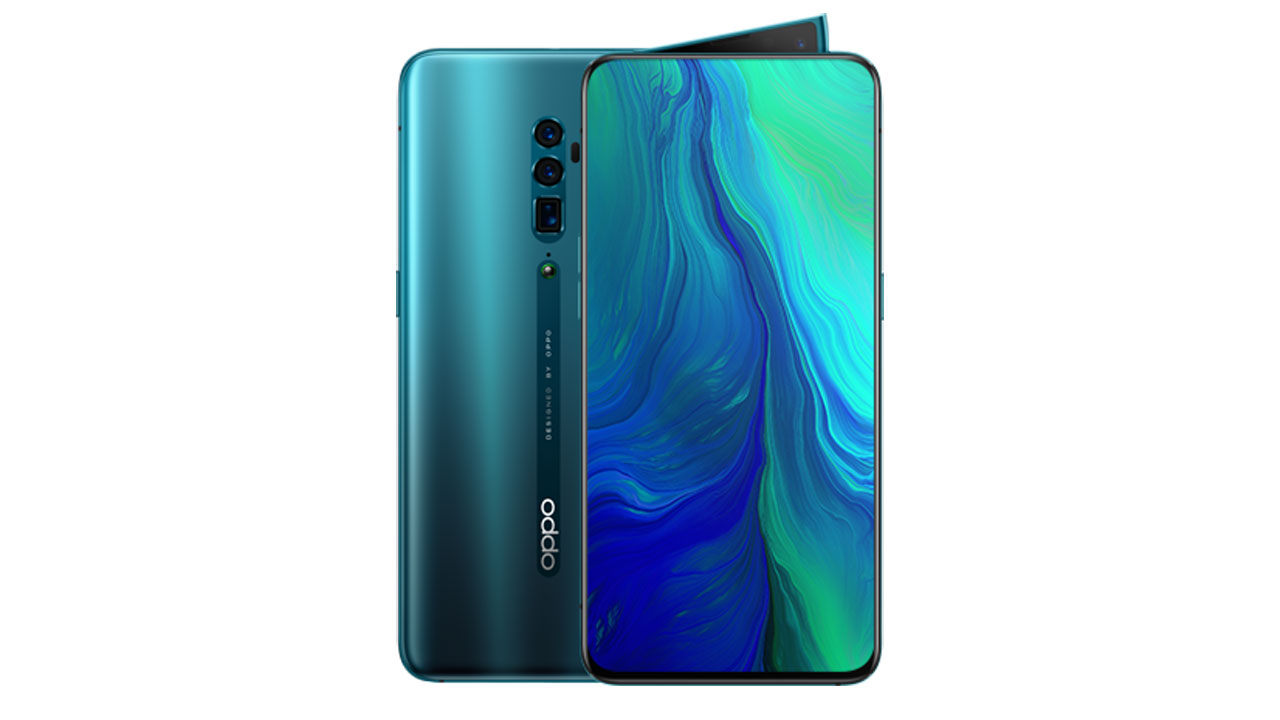 Next-up on the list is Reno 5G. This smartphone has the ability, to take your mobile phone experience to new heights, with its cutting-edge specs and features. This phone sure is affordable because you can buy this Oppo smartphone for only £399.99.
Specs
You will feel the power in the palm of your hands, with Qualcomm Snapdragon 855 processor of this smartphone. Plus, it has a memory of 8GB RAM and the wide storage space of 256GB. These specs let you enjoy lightning-fast 5G on your phone. Whether you are streaming, gaming, or just using the phone casually, all your operations can be done in a smooth manner.
Camera
Reno 5G is equipped with 48Mp ultra-clear camera, which gives you the freedom to take cutting-edge pictures, to cherish those precious moments. Plus, you can make clear videos in the dark room or in the night-time, with Night Mode2.0. In addition to this, the front camera is absolutely hidden inside its slim and sleek body, which appears quickly whenever you feel the need to take beautiful selfies.
Beauty Redefined
Enjoy your viewing on the 6.6 inches display with crisp and clear colours, on this slim and stylish smartphone. It is just 9.3mm thin and has a glossy look, which gives it bold appearance. It also keeps your phone cool with three different cooling technologies.
Last on the list but certainly not the least, is Oppo Find X2 Neo 5G. This smartphone styles-up your life, while being packed with great specs and technologies. With the price of just £429.99, it is quite affordable and a must-have for all the Oppo Smartphone lovers.
Specs
Powered by Qualcomm SDM765G, this smartphone runs on Color OS 7 based on Android 10. It has a memory of 12GB RAM and a huge storage space of 256GB, which provides the perfect power and speed combination for all your tasks. The long-life battery of 4025mAh lasts you the whole day to stream all your favourite movies in HD. Combine all these specs and you get the best 5G experience you could ask for.
Camera and Display
The 48MP rear camera and a killer 32MP front camera, lets you channel your inner photographer, to take larger-than-life pictures and beautiful selfies. With these great cameras you can create ultra-steady videos in 4K. It is equipped with 6.5 inches AMOLED display, which gives you the refresh rate of 90Hz and a 180Hz sampling rate. This majestic screen lets you enjoy all your viewing pleasures to the fullest.
 Killer Looks
With the weight of just 171g and a body just 7.7mm thin, Find X2 Neo 5G gives you the perfect style and looks. The super-slim body with sleek appearance surely turns some heads when you take it out in public.
Bottom Line
These were some of the best Oppo mobiles, which are quite affordable and packed with great specs. Please note that the prices mentioned of these phones may vary. So, what are you waiting for? Go to oppostore.co.uk and get yourself the best and affordable Oppo smartphones.